Amalia Studio Crete
rooms to let
the area around Souda Bay,
views of Finikas
The bay of Souda was, in the year 2006, considered as one of Greece's cleanest beaches by the greek tourist organization EOT. We as we live here know to enjoy this and suspected something similar anyway.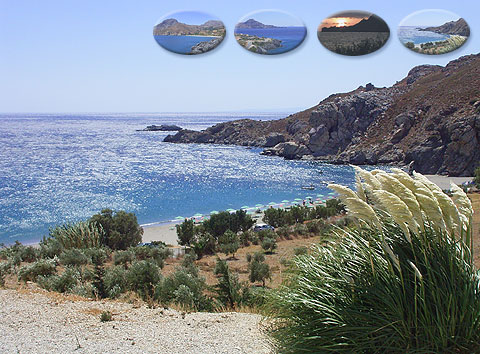 Souda Bay, as seen from the terrace
The beach right below the house varies from rather rocky to fine grain, the waters depth increases slowly. Sunbeds may be rented, two small tavernas at the western end offer tasty food and cold drinks.
'Souda Bay' is only one of many possibilities to enjoy the sea. Further beaches are not too far away, reachable by foot or by car in a few minutes' ride.
'Preveli Beach' is serviced several times a day starting at Plakias' harbour. The palm beach there is well worth a visit.